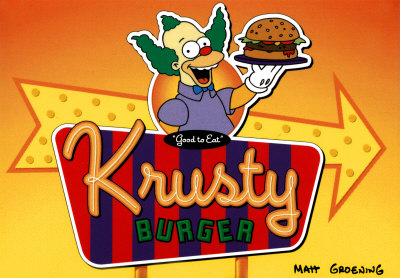 Let me start by saying…I'm a hog.  I love almost anything edible (except seafood…gross) but by far and away, a good burger has always topped the list when I'm ready to do some damage to my… ahem…figure.  I should also probably tell you that while I may be a 37 year old woman physically, mentally, I've always been a 14 year old boy when it comes to my tastes and sense of humor.  With that in mind then I guess it makes sense that one of my best friends in the whole world is in all actuality …a 14 year old boy.  But hold up, before you take your mind down a creepy "Letourneau" road, let me assure you that it's not like that.  In fact it happened quite by accident when several years ago my boss (Dr. Silverman) was in a huge bind and needed someone to look after his 9 year old for the weekend.  I was amazed that he asked and incredibly nervous but since he was so desperate, I just couldn't say no.  Turns out, it may have been one of the best decisions of my life.
Max was and is one of the COOLEST people I have ever met.  From the moment I picked him up for the first time at karate and he treasured my "Cartman" antennae topper, I was hooked.  His intelligence was astounding at that age but it was his expansive knowledge of all things pop culture that truly blew my mind.  I figured being the son of two Doctors, that he would more than likely be classified as a true blue egghead.  But as he perused the c.d.s in my car, much of which was hip-hop/rap, he not only knew most of the artists, he also began to rattle off the names of their labels, producers, who they collaborated with…it was crazy.  Couple that with our shared love of "The Simpsons" and his secret love of "Southpark" (he was still only 9 mind you), we became instant buds.  Over the next few years I became his regular weekend partner when the parents were away.  When that wasn't enough anymore, I started to come and hang out with him even when they didn't need me to.  See…Max doesn't have any drama in his life. No crappy job, nagging spouse or bills that he can't pay. Kickin' it with Max is simple, easy and just plain relaxing. The only thing we talk about is our favorite shows, movies, bands and for somebody like me who doesn't have kids of their own, it's just pure bliss.  If you don't have a "Max", I highly suggest you get one!
Over the last year and a half, whenever I can steal him away, we have been searching for the cure to our carnivorous craving for the most excellent burger in Atlanta.  The chase began at
George's
in the Virginia Highlands right around the Spring of "09". Filled to the brim with all the estrogen I could endure at work, I decided to play hooky since super kid was off on break.  My research had found that "George's" won best burger in Atlanta in 2008 so it seemed like the surest place to forge our journey.  It did not disappoint!  Even after all this time, I still remember how freakin' delicious and HUGE that jalapeno dijon burger was. Max had just gotten braces and as I recall the sunlight through the window glinted off the fresh metal practically blinding me as he tore through the regular cheese burger.  We must have used 10 napkins each as we caught the juices running down our hands. It was heavenly and the bar had been set. Who could top it?
[singlepic id=2936 w=320 h=240 float=center]Months passed.  He went to camp all summer but I was finally able to snag him again in the fall. After even more research, it seemed the next logical place to continue the tour de meat was
Flip Burger Boutique
on Howell  Mill. We rolled up on a Friday night and unlike George's which is a super comfy joint and filled with casual locals, Flip is a hipster's paradise. Almost like a singles bar in a way, at least on a Friday night that is. There were tons of dudes chuggin' beers and wine whilst mackin' on ladies that they had trapped against a wall or dark corner in the crowded, modernly designed dining area.   Our wait was ungodly long and we noticed after awhile that we were getting looked over for trendy SCAD students and yuppies. I guess the hostess figured some chick and a kid weren't all that important in the scheme or whatever and if we didn't get seated soon, we were totally going to miss our movie time. Max was extremely irritated and began clueing me in to the fact that Richard Blaise (owner of Flip) had cooked privately for him and about 20 adults at a friend's house a few months before.
"Yeah, you know that rich kid I told you about whose dad invented online banking or something?  Yeah, like his dad hired him to make us dinner one night. He was a really nice guy. He made us Kobe steaks and they were killer. Maybe if I called my friend, his dad could call Richard Blaise and get us seated!"
He was totally kidding but I'm still pretty sure the hostess overheard as we were at a table in about one minute after he made that statement. PLUS…. given rock star treatment by the wait staff the rest of the time. Tons of "were so sorry you had to wait's" and "we'll have everything out as soon as possible's".  It was awesome. ALL was completely forgiven the moment I bit into the chorizo burger with its crispy hash browns on top. Max was also ready to pardon our treatment after he chomped down on his Korean BBQ burger. HEAVEN….it's all that can be said. What's more, the Krispy Kreme shake with its chunks of decadent doughnut along with the vodka battered onion rings brought tears of joy to my chubby eyes. It was a magical eating experience.  I looked over at Max as he was trying his hardest to finish his pumpkin pie shake and he appeared as though he may pass out.
"It's got chunks of pie crust pieces in it. Oh god….I'm dying".
[singlepic id=2937 w=320 h=240 float=center]
While the wait sucked, the food and especially the burgers are so worth it. Max gave it a profound thumb's up!
[singlepic id=2938 w=320 h=240 float=center]
They just opened a new location on Roswell road a couple months back which I haven't been to yet but hopefully the wait isn't nearly as long and the clientele are a little more on the "regular Joe"  side.
Christmas approached and Max had been telling me that he was truly ready for his first "real" concert. He had been to John Mayer with his parents but as he so eloquently explained "it sucked." Being that he had a large interest in early ninety's rock/grunge music, I felt that the upcoming "Alice in Chains" concert at the Tabernacle would be a perfect introduction.  His father trusted my opinion and very sweetly offered to purchase the tickets for us. The concert wasn't until February, so I had plenty of time to scout the next perfect notch in our burger belts. This time location was a huge factor in the decision.
Canyons Burger Company. on Peachtree was close to the concert venue and although there wasn't much buzz about them, I figured we'd give it a shot. What a great find! Canyons has it set up to where you pay a flat price for the burger and then just add as many toppings as you'd like. Of course, I like's the spicy so I got mine with tons of jalapenos and chipotle mayo while Max stuck with the traditional lettuce, tomato, ketchup. We were both extremely impressed with how crispy the patties were but also how they still retained major juiciness.
[singlepic id=2939 w=320 h=240 float=center]
What's really cool about this place is that you can get half regular/half sweet potato fries and they are both pretty rockin'.  I've read tons of burger blogs and Canyons doesn't get much play. It's a shame because they have helluva good burger. You may have driven past it a million times and never noticed the place as it's quietly tucked away in a random strip mall. Seek it out. It's great. And if you're wondering, Max totally dug his first true concert experience. Cantrell and the crew were balls out fantastic and definitely aided in the chalking of many more cool points to my guise.
[singlepic id=2940 w=320 h=240 float=center]

By summer of this year, I had told several folks what Max and I had been up to so my suggestion plate was full when I scooped him up for another play date. By and large, the overwhelming arrow was pointing us to
Grind House Killer Burgers
in the Sweet Auburn Curb Market so we chartered a course to Edgewood avenue in Atlanta. You have to pass a lot of weird looking meat counters and stinky crap to get to their post in the back of the building but once arrived, you notice its hipness right away. They certainly embody the Grind House cinema experience by showing movies on the brick wall behind the bar and I was thrilled to see one of my fav's (Blazing Saddles) chugging away in the background.
[singlepic id=2942 w=320 h=240 float=center]
Max opted for the single/Grindhouse style with pickles and grilled onions while yours fatty here had the double/Cowboy style with bbq sauce and bacon.
[singlepic id=2941 w=320 h=240 float=center]
O.k., like I know everybody raves about how good their burgers are and while they are tasty no doubt, I've had better. I also didn't have to walk past a bunch of smelly fish heads in order to get them either. For both of us, it was good but no need to return. If they happened to move somewhere else in the future, I'd be apt to try it again though. The peanut butter chocolate shake was damn thick and super creamy but still….not blown away.  This place was our first "meh".  One last thing….the guy who took our order was a bit of a jerk.
Fast forward to very recently when I was lucky enough to get him for a whole weekend again. Those have certainly been scarce in the last couple of years as now he usually travels with his parents or goes on a trip with friends when they're out of town.  Getting older and all…..sniffle. I'm always on high alert for the day when he outgrows me. While he continues to mature, sadly, this is as mature as I'm ever going to get.  At present time, he still seems to be amused by my antics so I'll ride this train till it hits the station.This go around I was determined to find our favorite beef disc yet so when I read about the "10 o'clock" burger at
Holeman and Finch Public House
on Peachtree, it seemed to be just the one we had been looking for.
Now on any regular night, only 24 of these beauties are prepared and served at 10 p.m., hence the name.  If you don't get your order in fast enough, well then you're just S.O.L. We thought about shooting for it what with the mystique and all but were concerned that it might be a bust. Instead, as I found out, you can go to their Sunday brunch and get it guaranteed.  Yeah it seems cooler getting one of the only 24 at 10 but "cool" don't fill the gullet. We decided to play it safe and go with the sure thing.
[singlepic id=2947 w=320 h=240 float=center]
We arrived just before they opened and there was already a line wrapped around the building. There was sincerely a literal excitement in the air about the impending opening of the doors. I heard many obvious regulars talking about what they were going to get and how badly they had been jonesing for said item all week.  By the time they allowed our herd in, Max and I were drooling in anticipation. The place filled up in seconds but we were timely enough to at least get a table in the bar area.  One look at the menu (which is minimal) and we knew. All it says is "The Burger".
[singlepic id=2943 w=320 h=240 float=center]
The reviews had all remarked that you kind of get shorted in the fry area so I ordered an extra side of them. The waitress actually had to check and see if they could as they only have so many fixin's at the ready for brunch and they don't want anyone to miss out. I thought that was nice but a big girl needs her taters! Guess they realized that fact and she joyfully informed me that they would indeed relinquish the additional spuds.  We sat there laughing and joking while we waited and you just kind of get caught up in the atmosphere of the place.  It's a total "Cheers" vibe in there. It's full of super welcoming staff who treat the patrons like friends and family while offering an extremely pleasant visual aesthetic. It's a very happening spot without being overly trendy.  That's hard to do.  Then "The Burger" came….[singlepic id=2944 w=320 h=240 float=center]
[singlepic id=2945 w=320 h=240 float=center]
Oh Lord…..so good. This is without a doubt, a perfect burger. I don't think we spoke another word as the flawlessly cooked meat, red onions and cheese just melted in our mouths.  And the fries! Ohhh.. the fries are nothing short of superb. If I had any criticism it would be the house made ketchup. Maybe I'm too white trash to appreciate it, but give me Heinz any day. No matter, you can gobble them up sans ketchup and be just fine if you'd like.  It was a good thing we got more even though it was pure gluttony that made us finish them.  All I can say about H.F. is this….everything you may have heard is true. It's a must!  Were still hung up on Flip Burger too and agreed that as far as pure taste goes it's pretty much a tie.
[singlepic id=2946 w=320 h=240 float=center]
Next stop……
Farm Burger
. I'll let you know how that one works out!
Oh and by the by, I know The Vortex rules, I've had the Tasmanian Devil, but Max can't get in for another 4 years.  By then, he will DEFINITELY have out grown me.  Sigh.…..