HALCYON WAY, has parted ways with rhythm guitarist Zane (pictured below). Zane left the band on amicable terms and Halcyon Way wishes him the best in his future endeavors.
Zane spoke about his decision to leave the band: "After 6 years in one of the greatest metal bands ever, I have decided to leave for the sake of family and personal health. I have enjoyed my time in Halcyon Way and it has been a life defining tenure. Me and the guys all remain brothers and I look forward to everything Halcyon Way has to offer the metal world in the years to come. It was a true privilege to write and contribute to the band, and to hear what was in my head fleshed out on the albums was a joy all its own. See all of you guys in the front row at the next HW show! I'm currently working on a project called BISHOP LAKE with an EP due out in spring 2012. I also have a horror punk/metal band called School For Morticians slated to break wind sometime in mid 2012."Guitarist Jon Bodan shared his thoughts on Zane leaving: "As much as it pains us that our brother Zane has had to step away from Halcyon Way, we have nothing but respect for his decision and wish him nothing but the best. We've gone to war with him for a long time, and he will truly be missed. Keep an eye out for his new projects as I'm sure they're going to be killer! We would also like to thank Eric Roberts, Rob Fisher from Void Of Reason, and Mike Perrone for filling in with us on several live dates when Zane's situation was a little unclear – you guys were a big help to us and we appreciate it."In the meantime the band is auditioning new guitarists. Interested parties can contact the band at 
[email protected]
.
This will not put a damper on Atlanta's premier metal band's European tour this spring with DELAIN and TRILLIUM. Halcyon Way is still planning on bringing their powerful mixture of heavy, punishing riffs and infectious melodies to Europe. The tour kicks off April 26th in Hamburg, Germany and winds up May 16th in London.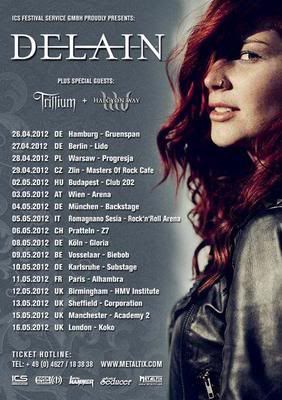 Halcyon Way tour dates (with Delain, Tillium) include:
April
26 – Gruenspan – Hamburg, Germany
27 – Lido – Berlin, Germany
28 – Progresja – Warzaw, Poland
29 – Masters of Rock Cafe – Zlin, Czech Republic
May
2 – Club 202 – Budapest, Hungary
3 – Arena – Vienna, Austria
4 – Backstage – Munich, Germany
5 – Rock'n'Roll Arena – Romagnano Sesia, Italy
6 – Z7 – Pratteln, Switzerland
8 – Gloria – Cologne, Germany
9 – Biebob – Vosselaar, Belgium
10 – Substage – Karlsruhe, Germany
11 – Alhambra – Paris, France
12 – HMV Institute – Birmingham, UK
13 – Corporation – Sheffield, UK
15 – Academy 20 – Manchester, UK
16 – Koko – London, UK